When editing a bill or statement template in TurboLaw Time and Billing under Windows Vista, when you click Save to save the template, you receive an Unexpected Error message.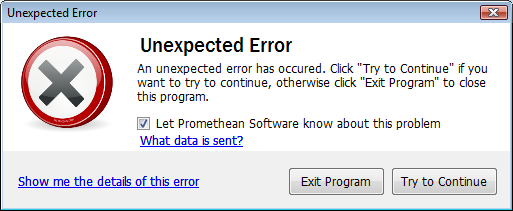 Note: this problem has been fixed as of version 1.10. If you are experiencing this problem, please make sure you are using the latest version of TurboLaw Time and Billing.
---
When the bill and statement templates are installed, Windows Vista sets their permissions such that only the Administrator account has permission to edit the files (normal users can still open and use the files).
To work around this problem temporarily, you can use either of these methods:
Method 1: When you edit a template, choose Save As and save the template with a different name. Once you have done this, you will be able to continue editing the template and save it normally.
Method 2: Change the file permissions on the template files to allow normal users to edit the files. The template files are (in Windows Vista) located in C:\ProgramData\Promethean Software Corporation\TurboLaw Time and Billing\1.0.0.0\.
Update: This problem has been fixed as of version 1.10.